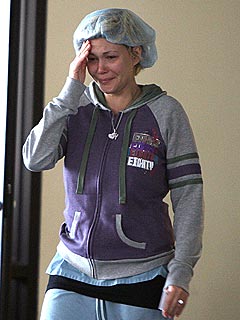 Shanna Moakler, the ex-wife of Travis Barker, rushed to Augusta, Ga., to be with Travis just hours after the plane crash.
A source tells PEOPLE, "She's been at this bed side ever since she got there," says a source close to Moakler, 33. "She loves him and she's not going to leave him."
The source adds, "It has all been very intense. [Shanna] is very emotional but also very strong."
The couple have 2 children together and are staying with their grandparents in CA, while Shanna is in Augusta.
Due to their quick thinking, Travis and Adam, surprisingly survived the fatal crash. Lieut. Josh Shumpert of the South Congaree Police Department tells PEOPLE, that he was one of the second responders at the scene, after the airport police arrived.
"[Travis and Adam] told me that they slid down the wing on the right side of the plane."
"They said they were on fire," adds Shumpert, whose patrol car's dashboard camera caught video of the fiery aftermath, "and that they tackled each other and put each other out."
"When I got there they were on the side of the road," says Shumpert. "They were pacing and in shock."
"Travis was very shaken up," he says, noting that Barker was given Gatorade after he asked for some water.
Very, very sad! We wish them a healthy recovery.